You don't get to be the premier destination in the Algarve without catering to every kind of holidaymaker, which is why there are so many things to do in Albufeira. Whether you're a thrill seeker, an animal lover, or a beach bum, you'll find the ideal activity that turns your getaway into a dream holiday. Of course, with so much to see and do on the sparkling Portuguese coast, you might find yourself with choice fatigue. Instead of fretting about an itinerary, take a look at our top ten things to do in Albufeira, so you can focus on making memories that you'll be talking about long after you return home.  
Beach Hopping
While Albufeira is a lively town with plenty to offer, there's no doubt the beaches are a huge part of why it's become such a hotspot for tourists and local Portuguese holiday makers alike. Whether you want a wide, clear expanse with calm waters ebbing at the shore, or to explore rocky coves that get smashed by gnarly waves that would impress even the most extreme surfers, the beaches in and around Albufeira will deliver.  
Praia dos Pescadores Beach is probably the most famous in the town and is flanked by plenty of bars, shops, and restaurants, making it perfect for groups and families. 
However, you can also head to the serene, crystalline water of Praia Sao Rafael, dig your feet into the soft golden sands of the secluded Praia da Falesia, and be wowed by the dramatic sandstone cliffs of Praia da Oura. The choice is all yours, and if you're there in the morning, so are the beaches. 
See the Castle of Paderne and Castillo de Silves
While Albufeira is a fun-loving place with plenty happening in the now, that doesn't mean it doesn't have the long, interesting history of most European regions. There are plenty of remnants of Southern Portugal's once vital defences, including two castles: Paderne, and de Silves.
The Castle of Paderne is just northeast of Albufeira, about a thirty-minute drive from the beach, and while it's only open for a short time each day is worth the trip if you're in the area. It's free to wander around, and aside from the cool, ancient brickwork, delivers some great views of the surrounding areas.
Castillo de Silves is a much more imposing proposition. Over a millennia old, it's one of the best-preserved castles of its time, and is also the site of some important archaeological excavations. A short drive from Albufeira, the excursion is well worth it, even if you don't normally care for castles.
Learn and Have Fun at Zoomarine Algarve
If you're looking for things to do in Albufeira that are fun and informative, then Zoomarine Algarve, just fifteen minutes from the town centre, is the perfect destination. Spread over thirty hectares and home to an astounding aquarium, a 4D cinema, walkthrough nature habitats, and countless other attractions including waterslides, it's the perfect place for families, those interested in nature, and anybody who just wants to make the most of their time here.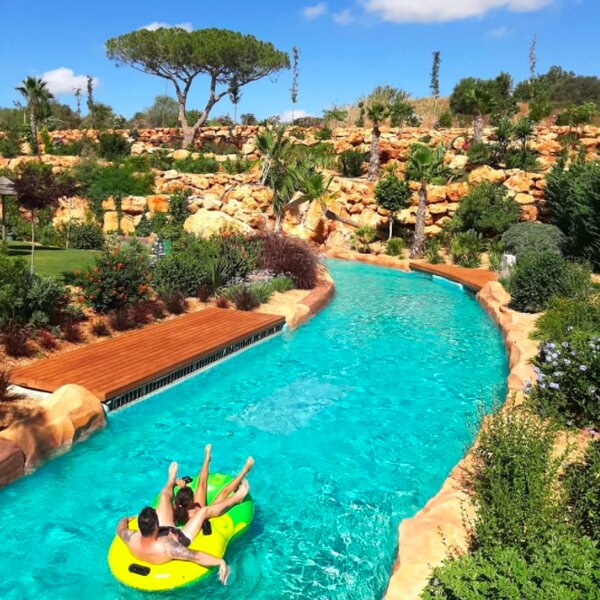 Take in the colourful cliffs of Beach Falesia Acoteias
While all Albufeira beaches are stunning in their own ways, Beach Falesia Acoteias is in a league of its own thanks to the plunging, colourful cliffs that serve as its backdrop. The famous red rock face cascades down to the shore, doubling as a protection from the worst of the Atlantic winds. A wonderful place to while away a few hours under the sun. 
Dance the Night Away on the Strip
Albufeira has long been known as a party destination, and for good reason. Although the Old Town remains quaint and lively in an old-world, dinner and drinks kind of way, the Strip in the New Town is heaving with a younger crowd, slamming shots and boogying the night away. There are all kinds of establishments around, from packed sports bars to massive night clubs that don't close until the sun rises. Even if you've come to Portugal's southern coast for a bit of peace and quiet, you won't regret spending at least one night letting your hair down under the bright lights of the Albufeira strip. 
Meander through the Quaint Old Town
A more refined experience than the thumping beats and neon lights of the Strip, Albufeira's Old Town is a cobblestoned delight, replete with tavernas, homestyle eateries, and classy restaurants and bars you'll want to dress up for. It's also a wonderful place to explore during the day, with the winding streets full of beautiful houses and small, artisan stores, where you can pick up souvenirs and gifts. 
Slip n Slide down a Waterslide at one of Albufeira's Water Parks
The Abufeira isn't just about lazy days on the beach. Taking a trip to one of Algarve's many water parks is a sure-fire way to have a great day and get the heart pumping at the same time. If you've got little ones you're in luck too, as many cater for families with more gentle attractions like lazy rivers or paddling pools. With that said, no Albufeira water park trip would be complete without barrelling down one slide at super speed – just make sure you're ready for the splash!
Take in the Sunset with an Albufeira Boat Trip
The Algarve is blessed with gorgeous, peachy sunsets that linger long in the memory, and there's no better place to relax and enjoy the end of the day than on an Albufeira boat trip. With dozens of operators to choose from, you'll be sure to have a memorable time watching the sun go down, drink in hand, bobbing on the calm Atlantic.  
Explore Silves, Faro, and Loule
There are plenty of quick day trips from Albufeira that deliver an insight into the Algarve's cultural history. The historic town of Silves is replete with incredible sites like the castle and cathedral, and some of its buildings have been standing for almost 1,200 years.  
Faro is also close by. Known for its resplendent buildings and beautiful layout, there are historical highlights tucked into every corner of the Algarve's biggest city. 
Loule is just a quick hop away from Albufeira too, and offers a slice of traditional Portuguese living, with its markets and quieter beaches where locals bask in the glorious sun. Visiting any of these beautiful towns is well worth putting on your list of things to do in Albufeira. 
Wine Tasting
The Algarve is wine country. There are over 2,000 vineyards in the region, and many are within a short drive of Albufeira. Wine tastings are easy to find, and you can even make a day or two of a tour, travelling along the coast and taking in the concoctions of famous cellars like Quinta dos Vales, or even Cliff Richard's Adega do Cantor.  No matter how you approach your Albufeira wine tasting, you're sure to come away with a renewed appreciation of the world of Portuguese wine.