Fair warning, discovering just how many Lanzarote attractions there are will ruffle the feathers of anyone hoping for a fortnight of poolside lounging. Volcanic adventures, architectural stunners, beaches with hidden Insta spots and underwater surprises are just a few of the things you'll find on your ever growing 'what to do in Lanzarote list'. Which does rather cut into your sunbathing and swimming time. Not to worry, there's more than one item on our list of Lanzarote attractions where you can do both – and tick off a must see. 
Dive down to the Museo Atlántico
Snorkel or scuba in Lanzarote's UNESCO Biosphere Reserve and you'll find yourself in an underwater museum. Since 2016, artist Jason deCaires Taylor has been adding artworks to the sea bed in a quest to make an ever-changing comment on our impact on the planet. 300 are now waiting to be explored – and are slowly becoming part of the eco-system. As you'd expect, diving Lanzarote's waters also comes with a chance to see plenty of marine life among the living sculptures. 
Check out César Manrique's Cactus Garden
You'll hear the name César Manrique a lot during your stay. And, Lanzarote's most celebrated artist certainly left his mark on the island. As his last work, the Jardín de Cactus, might seem tame compared to the breathtaking Mirador del Rio (more on that later) but it's no less impressive. Gathering together 450 different species of cactii from 5 continents is not a small undertaking. As much an attraction for intrigued horticulture fans as it is a place for photographers and those looking for a tranquil spot for a mooch and a muse. 
Orbzii tip: Manrique's other highlights, including Los Jameos del Agua get pretty clogged up with tourists. If you want a peek into his work, without the crowds, drop into the lesser known Lagomar Museum. 
Explore Timanfaya National Park
This is on just about every what to do in Lanzarote list. Which would normally see us swerve Timanfaya National Park for something a little more off the beaten track. But it's more than just a crop of volcanic craters and some well-scattered igneous rocks. A geological swathe of lunar-landscape lays out before you, with hidden geysers that shoot out water – this is best left to your guides – camel treks and a restaurant that serves only geothermal-torched meats and veggies. 20 miles of lava fields stretch out temptingly for explorers. But given that the magma is still nicely bubbling just feet below the surface – and Lanzarote's government want to keep the park as is – you'll need to stick to pre-planned tours on this one.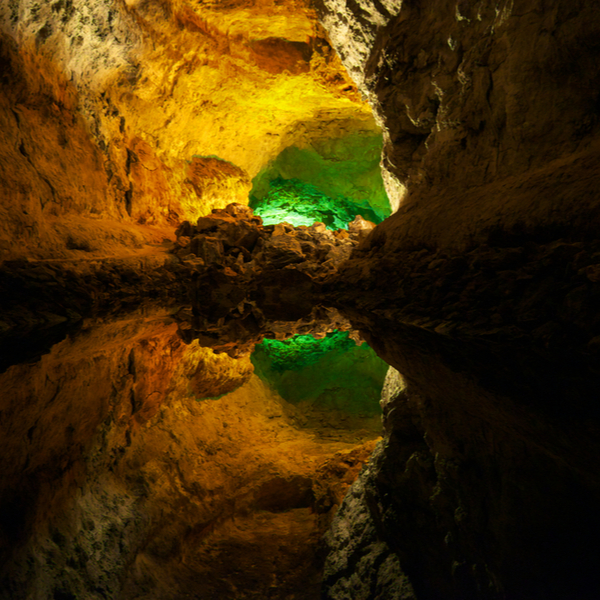 Walk into a lava tube
If the Timanfaya National Park leaves you wanting more volcanic adventures, drop by the Cueva de Los Verdes lava tube. Sadly, the entire 3.5 miles of volcanic tunnel isn't fully accessible to everyone – but the 1 hour guided tour more than makes up for it. The Cueva de Los Verdes, or Green Caves, have been tastefully lit so you can get a good look at its best bits. The tour takes in the lake, auditorium area – the acoustics really are something – and lifts the lid on the tunnel's past life. Spoiler alert: it's pirates, but then, it usually is. The impressive rock formations and tall tales make the 1.3 mile tour well worth your time. 
Swim in the Punta Mujeres natural pools
By now, you'll have spotted a certain theme running through the list of Lanzarote attractions. And, well, volcanic activity shaped the island, so there's more to come. In this round of lava-based fun, we're gazing deeply into the alluring turquoise pools of Punta Mujeres. These shoreside bathing spots were formed when La Corona erupted, sending lava flowing to the sea which then cooled into very convenient, and very sheltered natural pools. The swimming spots are numerous along the Punta Mujeres coast, leaving you free to pick your ideal spot. 
Orbzii tip: Up for something a little more taxing than idling in balmy sea water? You can take on the 5 hour hike to Monte Corona's volcanic crater. Expect some epic views and a glimpse at where the lava that formed the pools erupted from. 
Island hop to La Graciosa
Most people tend to hop around the larger Canary Islands from Lanzarote. Shame really, there's a wonderfully beach-clad spot right next door. With just 600 residents, La Graciosa's the smallest in the island chain – but big on character. Those pesky pirates crop up again, though this time you get a sense they really did plunder these shores. Perhaps enough to inspire Robert Louis Stevenson? Pop your metal detector in your backpack for this one, where you find pirates, you'll find treasure. Though with not much else to do on the island but catch fish and enjoy the mostly deserted idyll, it's likely the residents have already got to the good stuff. 
Mirador del Rio
It's fair to say that, during his time on Lanzarote, César Manrique created some architectural stunners. And Mirador del Rio is probably his best creation. Though, you'd easily miss it, if it wasn't for the glinting glass 400 metres up in the towering rock face. And, as impressive as the evil-lair concept is, it's nothing compared to the views. Pull up a pew, and grab a coffee and cake while you're at it and gaze out over the Chinijo Islands National Park. 
Orbzii tip: You can skip the cafe and small entry fee and take in the view from the surroundings – but it never quite matches the premium views from inside. 
Seek out the Charco Verde
This is definitely one for the insta crowd. If you're headed for the Timanfaya National Park or Playa de los Ciclos, Charco Verde's get ready to whip out your camera. The Charco Verde is a stunning green lake – parked next to a black sand beach. You can't swim in it – not that you'd want to bathe in a stew of sulphur and algae – but you can talk a walk to the water's edge and have a good old peer at it. 
Lanzarote Art Gallery
When the heat gets too much – and it will at some point – pop your bronzed bod through the doors of the Lanzarote Art Gallery. Bright, bold and always a little different. Past exhibits have included performances, painting under water and contemporary works that never feel fusty. This is more of a commercial venture than say, the Tate Modern, but if you handle the sales schtick – or feel like investing, do pop in. 
Before you finish your list…
There's a whole lot more to add to a what to do in Lanzarote list, but we can't let you visit without adding a few 'must dos'. Explore Lanzarote's food scene. Yes, there's more than enough British fayre to sate you, but the best restaurants in Lanzarote do rather well without offering a fry up at every course. You'll also want to book a hire car – at least for a day. You can drive from the north to the south in just an hour, though we expect you'll come up with a more exciting road trip than that. Our recommendation? Use it to get to some of the best beaches in Lanzarote.