Did you know that the 3rd March is World Wildlife Day? This is an international day that celebrates and raises awareness of the world's wild animals and plants.
Seeing one of the 'big five' or any intriguing animal in a stunning wildlife destination is certainly one of the highlights on the travel bucket list for many.
Where are the best places to see the wildlife of the world?
From the swimming pigs of Exuma in the sapphire-blue waters of the Bahamas to an unforgettable breakfast with giraffes in Kenya, if animals and wildlife are 'your thing', take a look at twelve of our favourite wildlife destinations and their habitats that should make any budding David Attenborough's wish list.
Swimming pigs in the Bahamas
Swimming pigs you say? Take a dip in the turquoise waters of Pig Beach in Big Major Cay and you are certain to meet one of Exuma's adorable and famous swimming pigs. The origins of how these water loving pigs came to be sea-dwelling sights is not quite clear, but what is certain is that you can expect to see and indeed swim with around 20 pigs and piglets. Don't forget to take a selfie!
Tortoise spotting in the Seychelles
The lesser spotted giant tortoise of the Seychelles, can be found on the island of La Digue, one of the larger islands in the Seychelles. This idyllic archipelago in the heart of the lustrous Indian Ocean has to be one of the dreamiest holiday wildlife destinations and whilst it's a cliche, they really do offer something for everyone, especially wildlife lovers.

Made up of 115 islands, each with their own unique charm, the standout islands to visit include Mahé and La Digue where you can find the giant tortoise. These extraordinary reptiles can grow up to four feet long and many of them are more than 100 years old. Spotting them is a rare treat, so make sure you keep your eyes peeled.
As well as the giant tortoise, twitchers will relish in spotting the black paradise flycatcher, one of the rarest birds on Earth.
Monkeying around in Costa Rica
People say we're monkeying around…From sloths to monkeys to toucans and hummingbirds, fans of nature will adore the dazzling array of wildlife in Costa Rica which has an entirely well-deserved reputation as an animal lover's utopia when it comes to watching wildlife.
At Corcovado National Park, you can expect to see four different species of monkeys as well as tapirs, jaguars and scarlet macaws nestled amongst the lush plantation. There are also 100 different types of butterflies and 400 (yes 400!) different types of bird species.
Quokkas in Australia
Why not say G'day to some of the cutest furriest wildlife on the planet over in the land of Oz? Native to the wildly beautiful Rottnest Island, off the coast of Perth in Australia, the captivating quokka has to be one of the most Instagrammable sights of Australia and this wallaby-like marsupial has garnered the reputation as the world's happiest animal thanks to their cheeky smiles.
What better location for an epic Oscar-nominated film like this?!
Dolphins in California
The coastline between Santa Barbara and San Diego is home to one of the densest populations of dolphins in the world and is one of the most spectacular places to see wildlife in the shape of short-beaked dolphins as well as Pacific white-sided dolphins too. 
Southern California has to be one of the best places in the world to spot a megapod (1000!) of dolphins. Head to the coast of Newport Beach, where you can see these magical creatures. Other marine life often seen in the area includes blue whales, fin whales, humpback whales,  gray whales, and more.
Head up the coast to the San Francisco Bay Area where you will find a plethora of sea life including dolphins, great white sharks, porpoises and of course the obligatory sea lions (who have been endearingly coined The PIER's "Sea Lebrities!")  which you can find as you meander down Pier 39.
Polar bears in Canada
Polar bears are the main wildlife attraction in Churchill, where about a thousand of the animals gather each year. It's a huge draw for the quiet and tiny town steeped in history on the southwestern shores of Hudson Bay. Truth be told, there is nothing quite like seeing polar bears in their natural habitat and where better to see them than in the 'polar bear capital of the world'.

Every year, around mid October through to November, you can watch these enigmatic bears gather on the tundra. You might even see some polar bear cubs emerge from their dens, with their mothers as they venture out into the outside world for the first time. As wildlife destinations go, this is one of the best!

Giraffes in Kenya
Wildlife lovers should head to Kenya to get their giraffe fix as there are over 29,200 of them. In fact, Kenya accounts for almost 30% of all of our long necked friends in the whole of Africa. Breakfasting with giraffes is surely high on the bucket-list for not just ultimate breakfasts, but for inspiring travel experiences too. 
The Giraffe Manor in Nairobi can give you the gift that keeps giving in the shape of an intimate interaction with Kenya's most famed wildlife. These memories are sure to last a lifetime as you bask in the experience enjoying a delicious meal as your new friends pop their long necks into windows looking for a treat.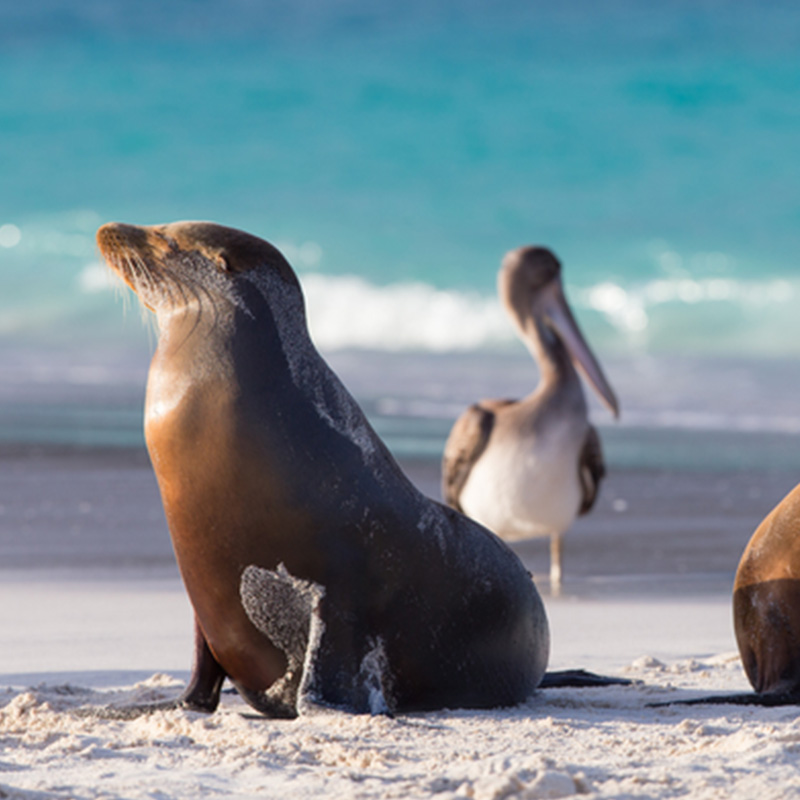 Sea lions in the Galapagos Isles
Sea lions live at the Galapagos islands throughout the year, but if you want to see the sea lion cubs, try timing your visit between July and November. The Galápagos sea lion is comparable to its Californian counterpart, but that's where the similarities in wildlife end. After all, you can hardly compare the bustling Pier 39 with the untouched nature of the Galápagos environs.

Location aside, these adorable and enchanting creatures will mesmerise and are surprisingly comfortable around humans. They often get curious and will make an approach to swimmers and snorkelers in the waters around the islands.

Elephants in Zambia
Can you ever get bored of seeing a herd of elephants at one of Zambia's many watering holes? The answer, unequivocally, is no. 
From witnessing the walk of elephants as they cross the Zambezi River from Zambia across to Zimbabwe to stopping off at one of the many watering holes and watching as the herds tip toe (yes! Tip toe!),
If you can't get enough of our big eared friends, why not pay a visit to the wildlife warriors of the Lilayi Elephant Orphanage in Lusaka who rescue and rehabilitate orphaned elephants.
Flamingos in Aruba
Just a 2.5-hour flight away from Miami, the extra travel time is worth it to visit the stunning location of Aruba. Incessantly warm, if you are looking for a sunny destination that is not only totally Instagrammable then Aruba ticks all the right boxes. As the Beach Boys sing in the iconic 'Kokomo' – 'Aruba, Jamaica, oh I want to take ya'. The song was written for the film 'Cocktail' starring Tom Cruise. Whilst Aruba is somewhat of a trek from the Big Apple, the photo opportunities available on this unique Southern Caribbean island are truly one of a kind and are ideal for the 'gram!
Meerkats in Botswana
Famed for the quirky toy counterparts in TV adverts, if you are looking for a real life meerkat experience, Botswana should really be your first port of call with a visit to the Makgadikgadi Pans, a salt pan situated in the middle of the dry savanna of north-eastern Botswana. Deemed as the best location to find a new furry friend and a great place to see all manner of wildlife in general, this is definitely worthy of a visit whilst in Botswana.

Meerkats tend to live in very large gangs of up to 40 individuals and thanks to their need to forage, you are almost guaranteed to see these cute little creatures in their natural habitat.
The penguins of Argentina
Oh Argentina! If you are looking to pick up a penguin (not literally obvs!) then book a trip to the beautiful destination of Patagonia in Argentina which is home to five penguin species.  Depending on the species and indeed the time of year that you go, these curious creatures can be seen anywhere from Tierra del Fuego to Punta Arena.
However, one of the best destinations to see penguins is at the Punta Tombo nature reserve, in Puerto Madryn. It has one of the largest colonies of Magellanic penguins with over half a million of them making this region their home. Wildlife wonderment indeed!