What's your beach style? Wait, don't tell us. However you lay you towel on the sands or recline on a cabana we're willing to bet there's a beach club in Mykonos for you. Eclectic and very, very alluring, these sunbaked havens of sand, spa and special treatment are a must.  
And, for our money, the best beach clubs in Mykonos are those that shift gears between chilled-out haven by day and all-out party scene by night. There are, of course, venues that keep things chic round the clock too. And a budget option for those days when Mykonos hasn't been kind to your wallet… 
Mykonos' Best Beach Clubs
SantAnna
Would it be overly dramatic to suggest that tears of envy will flow at the merest browse of SantAnna's social media? Possibly not… Such is the level of beach life luxury on display. Here, your beach club dreams can come true. Assuming those dreams involve being waited on hand and foot on your own private 'island'. Or perhaps nibbling on freshly prepared sushi from a cabana on the beach? All this, and more, is set to a soundtrack provided by live headline DJs.   
Frankly, the list of luxe is extensive and there's much more to get through. Four bars serve cocktails from 9am until sundown. And, if the sheer gloriousness of SantAnna is too much to bear, you can be whisked away on a private cruise. You will be dropping in on neighbouring islands, walking untouched sands on beaches only accessible by a very swish boat and generally living it up on the water. Bliss. Back at the beachclub, SantAnna's wellness experts are waiting to massage any cruise-induced stress away.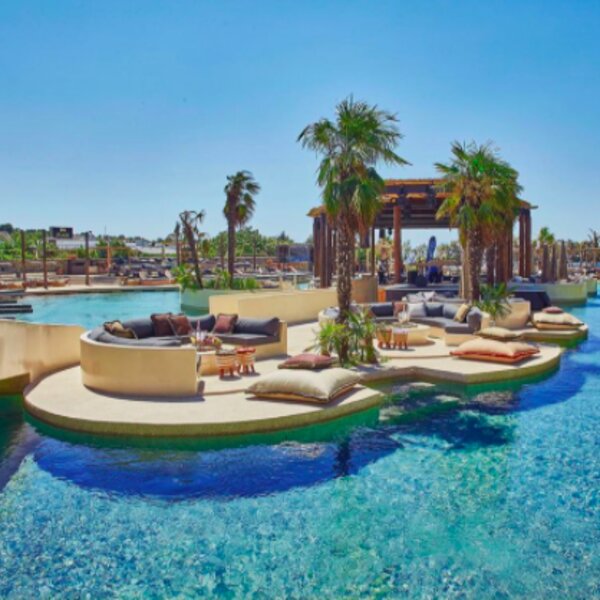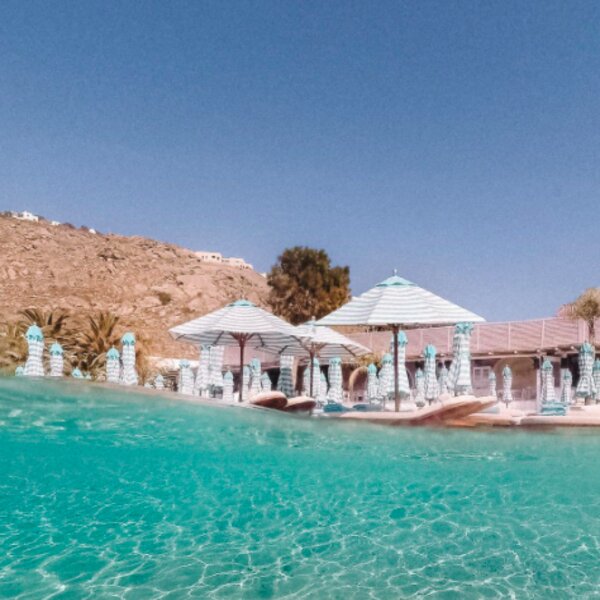 Nammos
Any other Mykonos beach club following SantAnna could struggle in the comparison stakes. Except perhaps Nammos. Another luxury spot promising a lot. We'll gloss over the fact their marketing drops hints about finding the meaning of life here. Because, well… we've all got a little too carried away at some point. It's a shame because they don't need to lure you in with such tactics. Their beach club does all the heavy lifting for them. 
You'll find it hugging the shoreline at Psarou, where the waters really are turquoise and the sands are soft and predictably, but reassuringly, golden. If you don't want to come ashore, Nammos provides yacht services. Which, may not be for everyone – but clues you into the level of luxe you're dealing with. 
Previous Nammo customers include Mariah Carey – notoriously difficult to please – and Liz Hurley is among a stellar cast list of summer visitors. Nammo chefs create dishes that the best restaurants in Mykonos would gladly serve, the spa team will rejuvenate even the most jaded and weary of you and the champagne and cocktails are suitably bling. You may well find the meaning of life at Nammo. That is, if the meaning turns out to be having a damn fine day at the beach in Mykonos. 
Scorpios
Perched on Paraga Beach, you'll find the sophisticated set up that is the Scorpios Beach Club. Pared back, refined, spiritual and experimental – this isn't your average beach club. By day it's a haven of meditation, contemplation and cabanas. A place to read, dream and while away some time in the sun. Which might be just what you need if you've been partying 'til dawn elsewhere. 
The key word here is alternative. Which is not to say all Mykonos beaches are the same – but Scorpios is more into transcendence and healing practices than club classics and sushi. The vibe here is more holistic. So it's menu is based on the Mediterranean diet and it's served at communal tables. All done with a sense of luxury – it's important to add that in. Wellness is front and centre – but you can still grab a cocktail or three.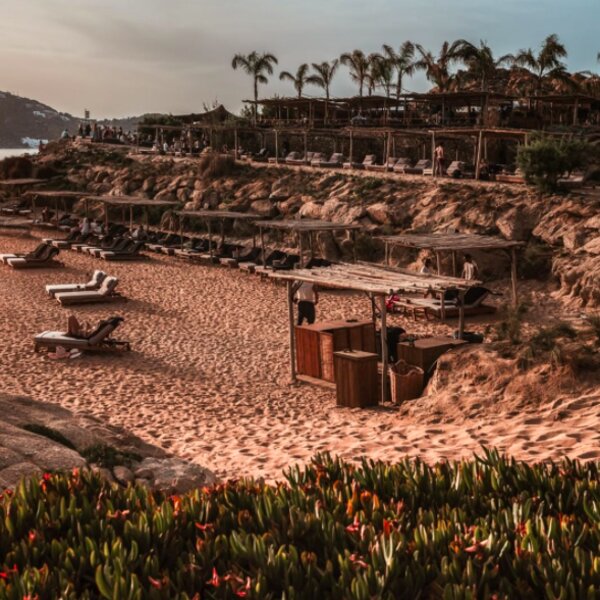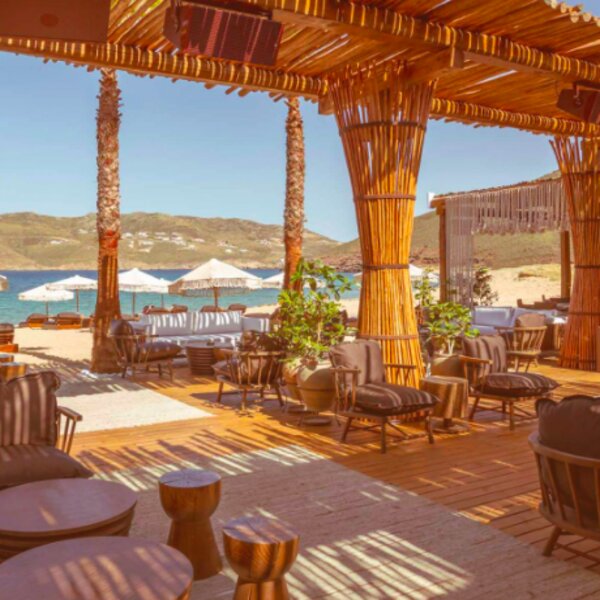 Principote
As the oft repeated saying goes… you can't please everyone. We'd argue that you can in Mykonos – and the place giving it their best shot? Principote Beach Club. A luxury spot on Panormos beach that keeps the decibels to a minimum early doors. Ideal for those Mykonos party hangovers – but as the day moves on, the tempo rises. If that's already starting to put you off, do stick around.
The beach is lengthy, allowing you to stray to quieter sands until you're ready for more. There's a nudist stretch of this beach – if that's your bag. If not, the elegant surroundings of Principote's restaurant will likely lure you in.  
In fact, while there's a lot to love about this beach club, its restaurants are the shade dappled havens that steal the show. If we had to sum up their plates in one word? Artistic.
You'll want to fill your feed with every dish. Sushi has to be beautiful, and Principote's is nothing short of divine. In the main restaurant, it's the finer details. Homebaked bread, fresh catches, organic produce and a nod to dietary differences with kosher and vegan options really make the menu stand out. 
Tropicana
There's nothing pretentious or luxe about Tropicana. The theme here is fun. Brash, in your face, partying from dawn until, well… dawn. The music's loud, the prices are reasonable (for Mykonos) and the dancing takes place on the tabletops.
Food is served cafeteria style – but you're not here for haute cuisine. If you're wondering if you've got the energy for an all day party, there are some chilled spots and cabanas to cool off in, but the thumping beats are never far away. The parties really kick off around 4:30pm and – if your budget can handle it – there are VIP tables to reserve too.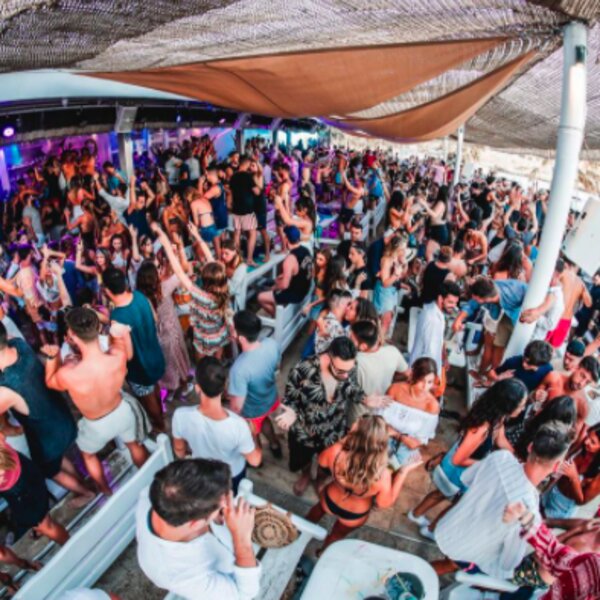 The setting? Paradise Beach – one of the best beaches in Mykonos for partying, it's not just Tropicana that gets these sands rocking. Ideal if you fancy a change of scene – or to scope out your next party venue… 
Still wondering which beach club to take your towel and snorkel too? We understand. It's a tricky decision. We can't help you pick which spot to sip your cocktails in, but we can get you to Mykonos simply and in style. Pop the Orbzii app on your phone to book your Mykonos trip today.