If you've long been of the belief that ancient Greek history can only be found on land. Think again. Then pop yourself in a wetsuit and prepare to be amazed. There's a section of sea bed off the Kos coast that can only be described as littered with ancient pottery. Yes, it's more than a slight spoiler, but if it gets you to try scuba diving in Kos, our work here is done. If ancient jugs just don't do it for you, how about wrecks? Walls, bays, thermal vents, caves, tunnels, coral gardens… now we're really talking. Dive in, rumour has it the waters are warm and clear too.  
Kos dive centres
Knowledge and experience should always be highly treasured, especially when navigating new waters. Currents, winds and tides can be tricky in these parts, so naturally we're going to recommend tagging along with some local sea gurus. Not only will they get you to their pick of the best scuba diving sites in Kos, they can sort you out with equipment too. Check out the Sea World Diving Center and Liamis Dive Centre for Kos dives, PADI courses and snorkelling trips.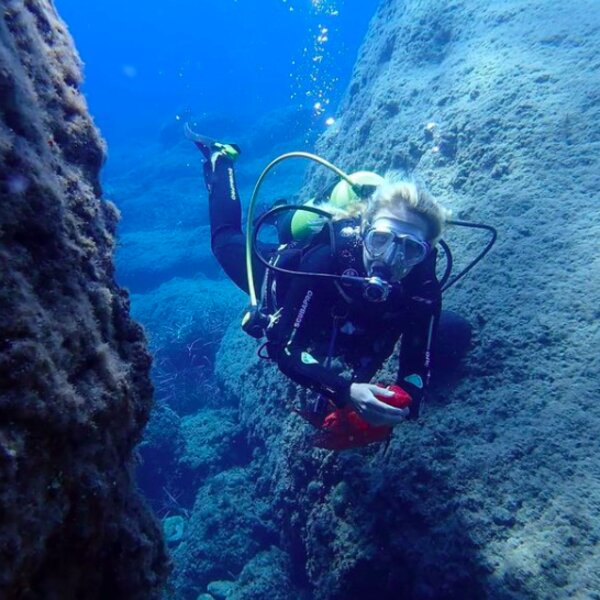 Kos dive sites
The reasons to dive in the Aegean Sea are too numerous to mention. When you're talking about Kos, in particular, the standout reason is the diversity of the dive sites. We're talking walls, bays, caves, tunnels and wrecks. But the standout opportunity is to swim amongst some sea-based archaeological treasures.
The waters, in summer, are warm and clear. And while the shallows near the shore might not offer fantastic marine life diversity, the real action requires you to get your wetsuit on, hip in a rib and head to stellar spots. Here are just a few of your dive site options… 
The Potteries/Amphoras Garden
No messing about, let's get you straight to those historical finds lying on the sea bed. Beginners will be happy to hear this is an easy dive – you're looking at a maximum depth of around 12m. On the sea bed you'll spot some Greek pottery. Still intact, the hundreds of amphoras are peeking from the sand with just the local wrasse, sea bream and scorpion fish for company. Octopi and squirrel fish have also been spotted here.  
Orbzii tip: As tempting as it would be to scamper off with an ancient souvenir from the sea bed, the Greek authorities would be far from impressed. Photography is also off the menu – of the amphoras, at least. Definitely one to savour with your eyes only.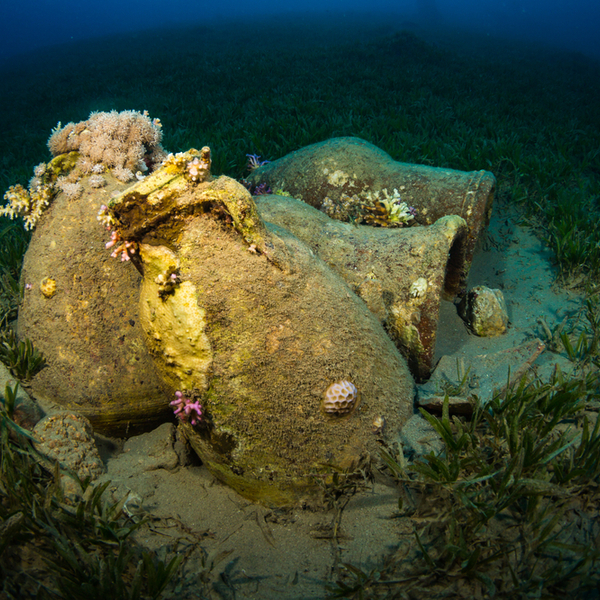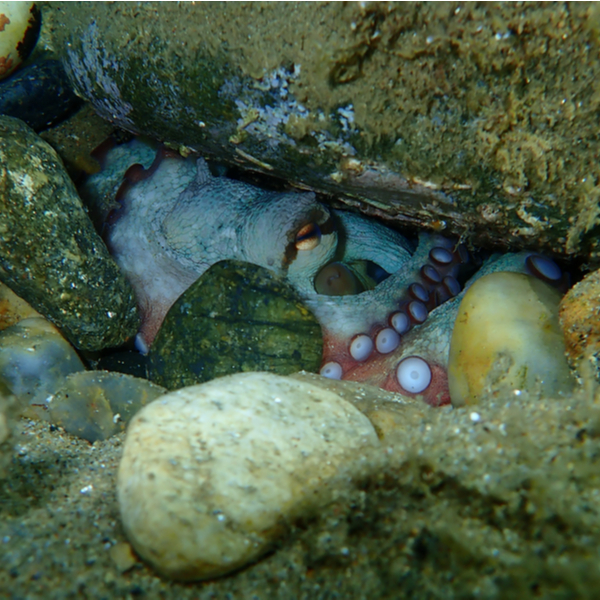 The Wall
Technically, we're not in Kos any more. The Wall is found at the bottom of the steep cliff face on the nearby island of Pserimos. We're not in newbie territory any more either. A drift dive dealing with depths of 50m, currents and changing sea conditions make this a challenging dive session.
The rewards? Octopi peeking out from cracks in The Wall, sea slugs lazily mooching along ledges, darting peacock wrasse and lobsters. But, the geography is just as interesting as the sea life.  
The Gardens
Allow us to introduce another unmissable Kos diving experience. You'll need some dive training under your belt for The Gardens – but it's a relatively easy dive that rewards divers of all levels of experience. Some say this spot reminds them of an English cottage garden – hence the name. 
You'll be swimming in an abundant ecosystem of corals and sponges that supports a wealth of marine life. Sting rays float by while oysters, eels and octopi go about their business.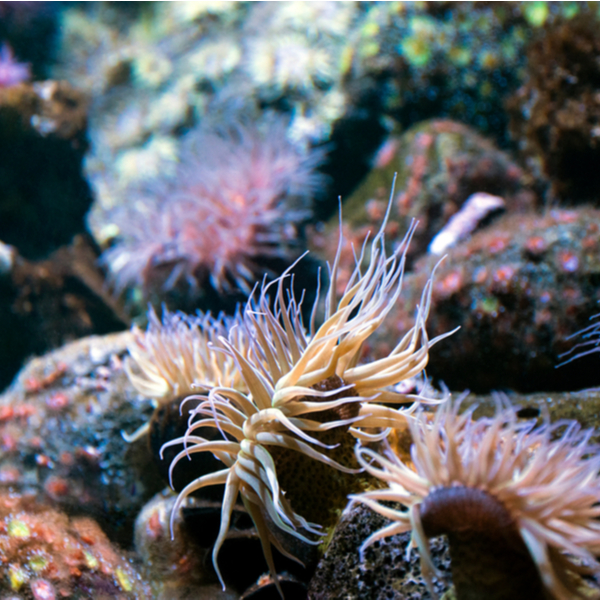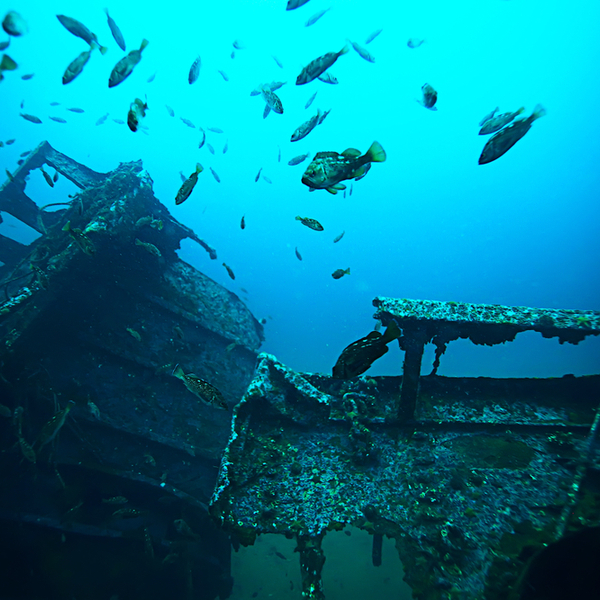 Liberty
For a chance to dive the wreck of a WWII freighter, you'll need to make another trip to Pserimos Island. Coming in at a whopping 69m in length, this ship juts out from the water – making it possible to explore, at least the bow section, with just a mask and snorkel. You'll want to scuba up though, as this one goes as deep as 24m in places. Though it was built in WWII, the Liberty sank as recently as 1997 – meaning it's still in a good enough condition to spot various features on the ship – but marine life has started to turn this into a living reef.  
Orbzii tip: If wrecks are your scuba 'must sees', don't miss the chance to dive the coast of Plati. This nearby islet has two more wrecks – one to the north and one to the south. 
Snorkelling
We're never going to tell you not to have a crack at snorkelling in the Aegean Sea. And, the clear, calm waters on the Kos coastline are a good place to get started if you're a snorkelling newbie. But rein in those expectations a smidge. Yes, you'll see some small colourful fish darting along the sea bed, but this isn't going to wow you like say, the marine reserve in Belize would. That said, there are a couple of spots to don your flippers in… 
Lambi Beach
Those with snorkelling knowledge and experience hit the shallows early on Lambi Beach. Here, the early bird catches the shoal. Fish come to the shore early doors for a spot of breakfast. Do bring your sea shoes for this one – the sea bed is strewn with rocks ready to make life uncomfortable.  
Orbzii tip: If you're looking to lounge after your snorkel, buying a drink at some of the nearby beach bars bags you a free sunlounger.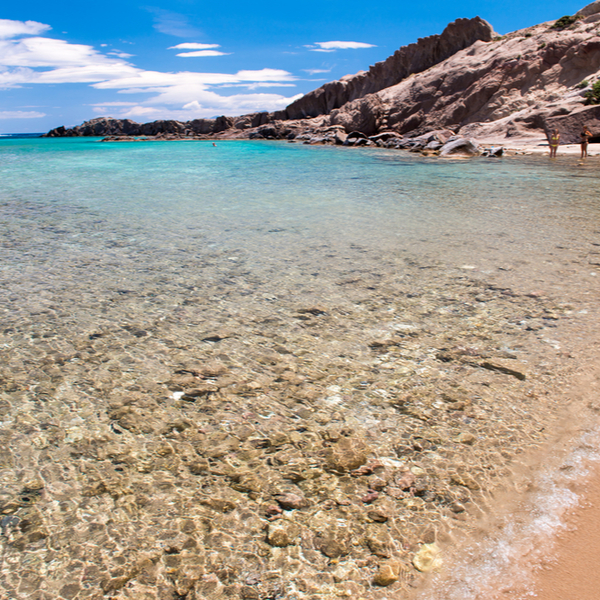 Paradise Beach
Ok, we'll admit it, this one's here for a touch of novelty value. The underwater world at Paradise Beach comes with added bubbles. These rising air pockets are provided by the volcanic activity nearby.
Naturally, children love the experience of swimming through the bubbles, but no matter your age, the sight of thousands of tiny bubbles shimmering in the sun lit sea is pretty enchanting. The best part, you're still likely to see some small fish here too.