Pitch up on an island famed for crystal clear waters and your first question may be … where are the best beaches in Kos? Then … how do I bag the best sun beds?
As ever, we're more than happy to point you in the right direction. We'll stop short of telling you about fine, white sand or the exact shade of the colour of the waters – unless they truly are remarkable. No, you're here for insider info on Kos' beaches, so expect restaurant tip offs and the intel on everything from where to find WiFi or see some sea bubbles.  
Kos Beaches
Lambi Beach
How do you feel about WiFi? If being away from a decent signal strikes fear into your bones… the sun loungers at Lambi Beach are for you. The bars that line the sands (and pebbles) here offer free WiFi – and sun beds, providing you're buying drinks or food. Not a bad deal. The waters are clear – and early morning swims reward snorkellers. Beyond that? It's the best beach in Kos, in terms of facilities. And the views to nearby Turkey aren't too shabby either.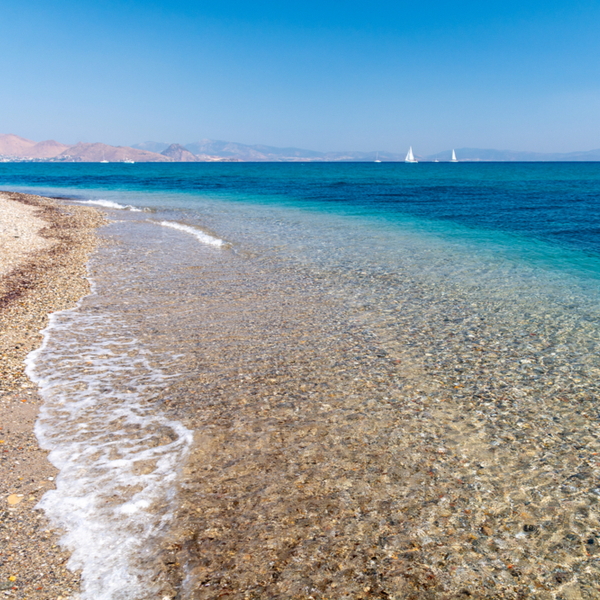 Paradise Beach
Now we're talking. Though, the name Paradise Beach might be a smidge misleading. It's got all the classics. Gently rustling palms, a sandy beach and a sweeping bay. And yes, the sea cycles through several shades of blue. But. It doesn't quite hit the 'paradise' quota for us. So what's earned it a spot here? It holds an ace card. The sea here is bubbly. Tiny air pockets seep from the sea bed – thanks to nearby Nisyros Island's volcano. Fun to snorkel through – and the water sports on offer here are top notch. 
Marmari Beach
A popular beach with families, Marmari Beach also lures in the water sports crowd thanks to some offshore wind action. Sunbathers … fear not. Don't automatically skip this one – there are spots to shelter from the breezes. Dunes are, after all, nature's wind breaks. Yes, it can get chilly here if you're not throwing yourself into the water sport action. But, these sands can be quieter than other beaches on the island. Bring your water shoes for this one, if you're planning a stroll. It can be pebbly in places. 
Kardamena Beach
If you like to flit from the beach, perhaps then to a harbour, then take a stroll around a Greek village … and then hit the beach again, plump for the sands at Kardamena. This spacious beach is quiet enough spot to spend a full day relaxing on, but there's so much nearby to explore. A 15-minute drive from the Fortress of Antimachia, it's a must-add to your Kos itinerary.
For your own slice of peace and quiet here, pick a spot beyond Banana Beach Bar. If you do stroll around the harbour, drop in to the Loustros Restaurant for lunch … or a cocktail, or both. Hunger kicking in thinking about it? Check out our favourite Kos restaurants.
Camel Beach
Paradise Beach gets all the attention for the bubbles – and the misleading title. Which leaves Camel Beach to quietly go about its business, often unnoticed. Shame really, it's a cracking cove. Full disclosure, the pebble/sand ratio isn't where we'd like it, but we'll let it go. Just this once. Why, because this is a no frills set up. You can rent a sunbed – if you arrive early, though the real draw here is the snorkelling. Clear water, plus in shore rocks, equals plenty of fish actions. The only downside? No camels. Kos does seem to like to toy with our emotions on the beach naming front. 
Agios Fokas
This stretch of sand and pebbles is one to note down if you're planning a day trip away from Kos Town. As Kos beaches go, we'd be tempted to lean towards 'run of the mill' – if it weren't for the sunsets you can catch here. There's also the small matter of the restaurant scene nearby. These two things definitely elevate this spot from 'meh' to FOMO inducing rather quickly. We wouldn't necessarily make a special journey here. But if you happen to be in the area? You'll definitely want to book a table at Taverna Romeo. Cheap and cheerful prices – but can't be beaten for regional dishes. 
Limnionas Beach
Fishing boats gently bobbing by, peaceful sands and a chance for a taste of the 'real' Greek island experience? Count us in. Limnionas Beach is hard to resist if you're looking to escape the hustle and bustle of Kos Town. So where's the catch? The sands may be deserted, but they can also suffer from a litter problem. The sun beds could also do with a little maintenance. There's privacy and seclusion – but it comes at a price. Skip this sheltered cove if you fancy a snorkel, the waters are a little too cloudy to see much. 
Nudist beaches in Kos
This could be a rundown of sands to flock to – or a handy guide on beaches to miss, depending on your approach to clothes-optional coastal shenanigans. These are sands where you can skinny dip, sunbathe in the altogether and beach your way, without your clothes. 
Polemi Beach
A stretch of Kos coastline which goes by a few different names… Polemi, Magic, Exotic and so on. Don't get confused, Magic Polemi's neighbour. Name aside, this is often lauded as one of Kos island's best beaches. It's also the only official spot to be acknowledged as a nudist beach. Facilities are few – but you've got all the essentials. A spot to rent a sun bed or two – that also doubles as a refreshments kiosk. For a meal? You'll need to get dressed and skip along to nearby Sunny beach, where you'll find a taverna. 
Tingaki Beach
If you're taking your first steps into naturism, the dunes at Tingaki do offer some shelter from prying eyes. They aren't quite high enough to keep out the winds on the more blustery days though. The clothes-optional section of the beach should be clear when you get there – as it's a popular spot for sunbathers to disrobe. For facilities? You've got everything you need just a 5 minute walk from the beach.